✔️ Royal Club Hotel Visegrád ****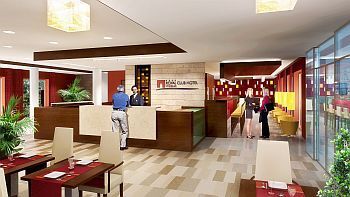 Royal Club Hotel Visegrad - affordable wellness hotel in Visegrad

Location:
Royal Club Hotel **** is located in Visegrad, near the Fellegvár (Citadel) which is the widest-known element of the fortress system of Visegrad. The hotel offers beautiful views of the Citadel, the Danube Bend and the river.

Rooms:
All rooms of Royal Club Hotel **** are air conditioned and are equipped with LCD TV, telephone, refrigerator, safe and WiFi Internet access.

Superior rooms:
Superior rooms can accommodate max. 2 persons in a double bed, extra bed is not available. This room type has a terrace.

Superior Deluxe rooms:
Superior Deluxe rooms can accommodate max. 4 persons in a double bed and a sofa bed. This room type has a balcony.

The apartments have fully equipped own kitchen with cooking plates and microwave.

Studio apartments:
These apartments are suitable for 2 persons, extra bed is not available. The 90% of the 24 apartments have a balcony.

Superior suite:
Superior suites have a bedroom and a living room. Perfect for families up to 4 persons. In the living room there is a sofa bed, available for 2 extra people.

Exclusive suite:
Exclusive suites have 2 bedrooms with 1-1 double bed and a living room with 1 sofa bed for 2 extra people, totally suitable for 6 persons. a balcony.

All of the rooms and apartments are non-smoking!

Gastronomy:
Royal Club Hotel **** has a restaurant that offers buffet breakfast and half board dinner on request.
The restaurant has an a'la carte menu including Hungarian and international dishes, but it also offers the opportunity to taste reform dishes and special meals for diabetic and flour-sensitive people.

Wellness:
Royal Club Hotel **** offers special relaxing and spa services for it's guests.

Outdoor pool (depth 1,4 m, width 4,5 m, length 10 m, temperature 22-30 C)
Indoor pool (depth 1,2 m, width 3,5 m, length 9,5 m, temperature 26-28 C)
Hydromassage pool with hot water (depth 0,8 m, width 3 m, length 3,5 m, temperature 34-36 C)
Children pool (depth 0,3 m, diameter 1,8 m, temperature 34-36 C)
Finnish sauna
Infra saunas
Kneipp tread basin
Himalayan crystal salt room
Fitness room

The Royal Club Hotel Visegrád offers beside all these different massages, for example Thai, Ma-Uri, medical and Swedish massages.

Conferences:
The conference room of Royal Club Hotel is suitable for organising family occasions and business meetings as well. Thanks to its 100-seat capacity and high-level euipment, it is the ideal venue of school-leaving parties, birthday parties and also for companies to arrange courses and meetings.
The meeting room has a capacity of 20 people.