✔️ Airport Hotel Budapest ****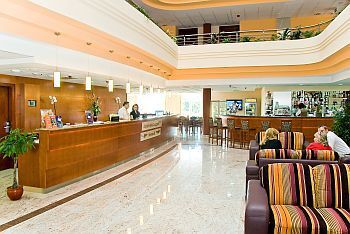 AIRPORT HOTEL BUDAPEST **** Affordable Hotel Airport Budapest
LOCATION
The 4-star Airport-Hotel Budapest is situated 2,5 kilometers from both Budapest Ferihegy terminals, as well as from the Vecsés exit of the M0 motorway, across the Airport Business Park, only 20 minutes from Budapest city center.
Airport Hotel Budapest rooms:
Our 112 air-conditioned rooms and suites are developed in order to serve you and your business partners with the most convenience, and at the same time your business meetings can be easily organized. All our rooms are connecting, have self-controlled air-conditioning system, satellite television set with international and movie channels, minibar, in-room safe, radio alarm clock and unlimited Internet connection.
Budapest Airport Hotel WELLNESS CENTER:
Our 150 m2 wellness center offers the perfect place for relaxation and recreation with a jacuzzi, a sauna and a fitness-room.
Hotel Airport GASTRONOMY:
Our restaurant is suitable for your business lunch or elegant dinner, as well as perfect for a group dinner or lunch. Our internationally recognized chef provides you the excellent Hungarian and international dishes in the non-stop restaurant, which seats 150 people, or on our terrace, which is comfortable up to 50 people.
The exclusive cafe in the hotel's lobby waits for our guests with cafe specialities, wide range of cocktails and the best Hungarian and international wine selection.
Budapest Hotel Airport conference:
The air-conditioned and highly equipped conference rooms are perfect for 20-200 people's business meetings and conferences, even for weddings. Upon request all necessary technical equipment is available: projectors, computers, scanner, internet connection, copy-machine or secretarial service.
Hotel Airport Budapest parking:
A parking garage for 40 cars and a car park for 500 cars belong to our hotel.