✔️ Forster Vadászkastély Bugyi ***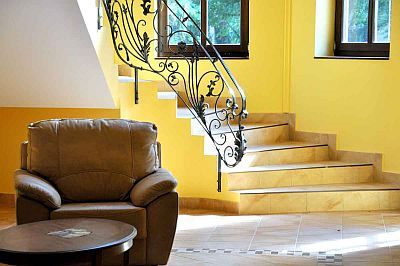 Forster Vadászkastély *** Bugyi - Forster Hunting Lodge in Bugyi
The 3-star castle hotel is situated in Bugyi village, 18 kms away from Budapest. Forster Hunting Lodge and Hotel was built at the end of the 19th century in a picturesque ancient park and was opened in the summer of 2011. Our guests are awaited by a traditional Hungarian cuisine, individual gastronomic and program facilities and special visual effects here.
Rooms of Hotel Forster:
In the Hunting Lodge and the 3-star hotel we are waiting for the guests all with 45 rooms which include double, triple, four-bed rooms, 2 rooms for disabled guests and a suite. Forster Castle has elegantly equipped, comfortable rooms, all of them are air-conditioned and are fitted up with LCD television, phone, safe, on request minibar and Internet connection. The bathrooms have either a shower or a bathtub.
Gastronomy in Forster Hunting Lodge and Hotel:
In Hunting Tavern we await the guests with traditional Hungarian dishes which are based on the perfect Hungarian ingredients and folk traditions. The restaurant offers excellent Hungarian game specialities and dishes made in the beehived oven as well as great red, white and rosé wines. In the park of the castle there is a possibility to make dishes on our outdoor pots. In Vadaszcsarda we also arrange different gastronomic programs, like for example wine dinners, "beehive oven days" and cooking courses.
Events in Hotel Forster:
The hunting lodge is an ideal place for the arrangement of conferences, news conferences, company events, balls, weddings, family events, Christmas parties and team-building trainings. The hotel has a conference room with a capacity of 500 people which wears the characteristics of the elements of folk and modern architecture, so it forms a perfect harmony with the natural environment. The room is equipped with appliances necessary to the arrangement of different events: microphone, flip chart, sound system, video camera, CD-DVD player, projector, etc. The Hunting Room equipped with antique furniture - due to its capacity of 30 - is suitable to the organizations of smaller events. The unique trophies decorating the room and the fireplace make a special, family mood.
In the park of Forster Hunting Lodge it is possible to arrange several types of outdoor events, due to its facilities (for example beehive oven in the park, outdoor pots for cooking) it can be a perfect place of garden parties, family days or team-building trainings. If you would like to arrange a family day in Forster Lodge, we are pleased to help you in the organization of children programs, cooking races and courses, skill competitions, forest trips and so on. On our outdoor mainstage there is also a possibility to organize pop and classical music concerts as well as prosaic lectures.