✔️ Görgey Art Hotel Visegrád (Vár Hotel Kastélyszálló Visegrád) ***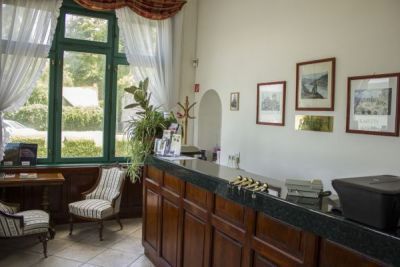 Görgey Art Hotel Visegrád - Wellness and Castle Hotel in Visegrad ***
The 3-star Görgey Art Hotel Visegrád Wellness and Castle Hotel is located in the historical centre of Visegrad, directly on the Danube bank near the Castle of Visegrad and the Salamon Tower.
The building of the hotel situated in the most beautiful part of Danube Bend, was the hunting castle of Artur Gorgey, the general of revolution of 1848-49.
Hotel Vár Kastélyszálló offers 20 comfortable, tastefully designed rooms for the guests. All rooms are equipped with shower, telephone, satellite TV and free WiFi Internet access. One part of the rooms has minibar. In some rooms guests can enjoy the beautiful view of the Danube Bend.
The gastronomic experience is provided by the atmospheric restaurant and drink bar of the hotel. The restaurant offers traditional local dishes and home-made specialities.
In the summer guests can have their breakfast and dinner in the garden which seats 100 people.
Wellness services in Hotel VAR Wellness and Castle Hotel: indoor swimming pool, outdoor jacuzzi, infrared sauna, Himalayan salt room, massages (for a fee).
On the gallery above the pool guests can enjoy the real relaxation in the comfortable cushioned armchairs, and going out from the wellness section they can enrich the experiences in the outdoor jacuzzi (36 °C).
Pets are welcome.