✔️ Laguna Pension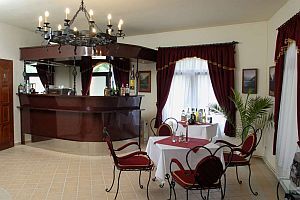 Laguna Pension & Restaurant
Dear guests! We would like to inform you that we are not selling available rooms in this hotel presently.
Thank you for your understanding! Other Special Hotels Hotel Oxigén Noszvaj, Erzsébet Királyné Hotel Gödöllő, Hotel Silvanus Visegrád, Abacus Wellness Hotel Herceghalom and the Vital Hotel Nautis Gárdony.
Laguna Pension & Restaurant is located in Mogyorod, directly on the main road, alongside the M3 motorway.
Hungaroring circuit (the venue of Formula 1 Hungarian GP) and the Aquarena aquapark (open from May until September) have easy access from the pension.
Our pension offers 14 comfortable double rooms and 1 apartment (suitable for 2 persons) with fireplace and jacuzzi. The rooms are equipped with shower, fridge and satellite TV. Extra beds for adults and children can be placed in the rooms.
Our hotel guests can use our fitness room, jacuzzi and infra sauna free of charge. For a charge you can require different massages: medical massage, segment massage, relaxing massage, face massage and foot massage.
Our romantic restaurant awaits our kind guests with continuously refreshed menu. We offer typical Hungarian dishes, made from Hungarian ingredients, and the specialities of international cuisine. Half board and full board are also available. Our a'lá carte restaurant offers a wide selection of game meat. Opening hours in the restaurant and the café: from Monday until Sunday 11:00-23:00.
The restaurant is a perfect venue of weddings, business meetings and other events.
The pension has an own angling lake with more than 600 kg of fish including the following species: trout, carp, bleak, catfish, pike and pike perch. It is a paradise for anglers. On your request our chef will make the fresh caught fish for lunch or dinner for you.