✔️ Airport Hotel Stáció Vecsés ****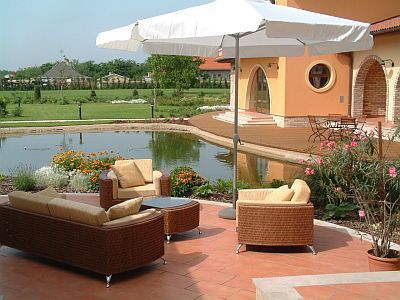 Budapest Airport Hotel Stáció Vecsés **** Affordable Wellness Hotel in Vecsés, Budapest
Budapest Airport Hotel Stacio is located in Vecses, in the vicinity of Budapest International Airport Ferihegy, yet in a peaceful environment. The airport hotel awaits corporate travelers, business and leisure guests in a cosy atmosphere.
Airport Hotel Stacio is easily accessible because it is located only 4kms from the international Budapest Airport (Ferihegy) and 2kms from M0 highway.
From the M0 you can reach the M5 highway in a couple of minutes, road 4 and M3 highway can be accessed easily just like in the other direction the M1 - M7 highways.
Airport Hotel Stáció Budapest can be reached in 15-20 minutes from the City by the "Ferihegy High-Speed Road", which connects the city center of Budapest and the airport.
Budapest Airport Hotel Stacio guarantees free airport transfer between the hotel and the airport.
The Airport Hotel Stacio offers a high standard accommodation in a peaceful natural environment throughout the whole year. The first four-star hotel of the airport has 31 rooms and uses an environment friendly heating and cooling system.
All of the rooms in Airport Hotel Stacio are air-conditioned and equipped with a safe. We provide Internet connection in all of our rooms, so you are able to connect to the Internet and do your business.
Restaurant Pipacs of Airport Hotel Stacio awaits the guests with a wide selection of Hungarian and international specialties.
The restaurant is an ideal place for a business lunch or family celebrations.
For banquettes and protocol events we offer our Galleria. The drink bar of Airport Hotel Stacio opens in the morning and offers many types of drought beers and home wines till late in the evening. If you desire only a cup of coffee, you are also welcome.
Airport Hotel Stació has two conference rooms with natural lights and one atmospheric meeting room. The conference rooms are ideal venues for events, trainings, meetings, receptions, conferences and family events. The rooms have wireless Internet connection, and they are equipped with projector screen, projector, and flip chart but TV, DVD or CD player may also be requested.
The conference rooms have direct connection to the garden, so outdoor team building is also possible.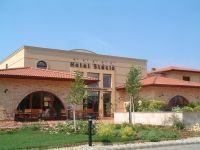 ✔️ Őszi napi árak reggelivel a Hotel Stációban (min. 2 night)

2023.09.01 - 2023.11.30
Őszi napi árak reggelivel a Hotel Stációban (min. 2 éj) 24.350 Ft / fő / éj ártól / reggeli / wellness használat / fürdőköpeny használat / ingyenes wifi /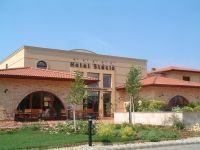 ✔️ Őszi hétvégi pihenés a Hotel Stációban (min. 2 night)

2023.09.01 - 2023.11.30
Őszi hétvégi wellness pihenés a Hotel Stációban (min. 2 éj) 23.725 Ft / fő / éj ártól / félpanzió / wellness használat / fürdőköpeny használat / ingyenes wifi /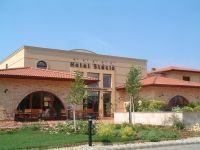 ✔️ Téli rekreáció wellness akció a Stáció Wellness Hotelben (min. 2 night)

2023.12.01 - 2023.12.22
Téli rekreáció wellness akció az Airport Hotel Stációban (min. 2 éj) 22.475 Ft / fő / éj ártól / üdvözlőital / félpanzió / délutáni aprósütemény / wellness használat / fürdőköpeny használat / ingyenes wifi /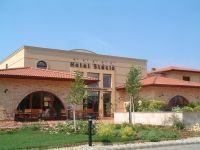 ✔️ Karácsonyi akció az Airport Hotel Stációban (min. 2 night)

2023.12.23 - 2023.12.27
Karácsonyi akció az Airport Hotel Stációban (min. 2 éj) 33.725 Ft / fő / éj ártól / üdvözlőital / büféreggeli / ünnepi büfévacsora / karácsonyi aprósütemények / karácsonyi meglepetés / wellness használat / ingyenes WiFi /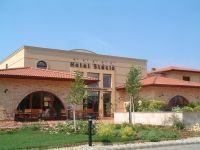 ✔️ Szilveszteri akciós wellness ajánlat az Airport Hotel Stációban (min. 2 night)

2023.12.30 - 2024.01.01
Szilveszteri akciós wellness ajánlat az Airport Hotel Stációban (min. 2 éj) 65.250 Ft / fő / éj ártól / büféreggeli / szilveszteri svédasztalos vacsora / szilveszteri programok / tombolasorsolás / wellness használat / ingyenes wifi /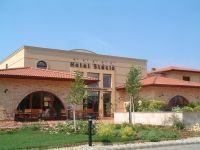 ✔️ Szerelmes Valentin nap az Airport Hotel Stációban (min. 2 night)

2024.02.09 - 2024.02.18
Szerelmes Valentin nap az Airport Hotel Stációban (min. 2 éj) 29.975 Ft / fő / éj ártól / romantikus szobai bekészítés / üdvözlőital / félpanzió / wellness használat / fürdőköpeny / ingyenes wifi /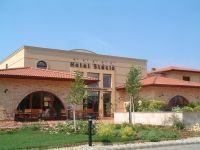 ✔️ Újévi felfrissülés az Airport Hotel Stációban (min. 2 night)

2024.01.07 - 2024.02.29
Újévi felfrissülés az Airport Hotel Stációban (min. 2 éj) 21.225 Ft / fő / éj ártól / félpanzió / wellness használat / fürdőköpeny / ingyenes wifi /