✔️ Hotel Queen Elizabeth ***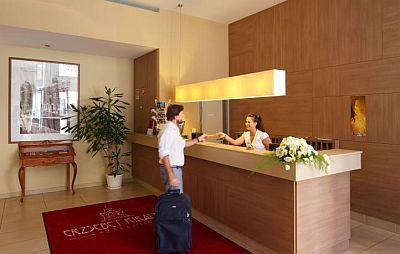 Hotel Queen Elizabeth *** Godollo - Discount hotel near the Hungaroring in Godollo
Location:
The Hotel Queen Elizabeth is situated in the heart of Godollo in the vicinity of the Royal Palace. The centre of Budapest is easily accessible by car as well as by public transport.
Rooms:
The Erzsebet Kiralyne Hotel is with 62 air-conditioned rooms at its guests' disposal, in the categories of standard, superior and deluxe. Each room is equipped with colour TV, phone, broadband Internet connection and minibar. Upon request connection rooms as well as rooms for the handicapped guests are also available.
Gastronomy:
The restaurant of Hotel Queen Elizabeth is capable to hold 200 persons, its offer includes the specialities both of the Hungarian and the international cuisine as well as vegetarian dishes. The restaurant's rarity is that it also operates as a gallery, so during the meals guests can take pleausre in the art. The restaurant is the excellent venue of social and business gatherings, events and meetings.
In the hotel's café guests are awaited with coffee- and tea specialities, refreshings, sandwiches and delicate pastries.
Events and conferences in Godollo:
The ballroom of Hotel Queen Elizabeth has a capacity of 200 persons, the section room is suitable to seat up to 40 persons. The air-conditioned event rooms have natural lightning and dispose with the necessary modern technical equipment (amplification, flip chart, WiFi Internet, projector, etc.)
The hotel is the ideal venue to arrange conferences, weddings, business and family gatherings.