✔️ Bibi Panzió Budapest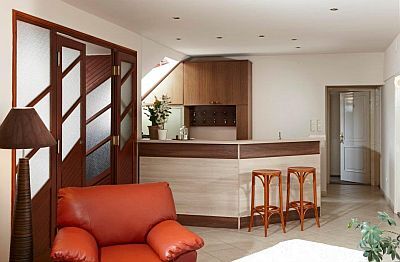 Pension Bibi Budapest - Bi & Bi Pension Budapest
The familiar Pension Bibi is situated in Budapest, near the Moszkva square, in the heart of Buda. From the pension everything can be reached easily in the city at any time of the day or night. The pension has been renewed in 2005.
In all of our single-, double-, triple- and four-bedded rooms you can find separated bathroom, air-conditioning, colour TV, telephone and mini-bar.
Between 8 - 10 a.m. be our guests for a self-service breakfast! The extended continental breakfast includes cold-meat, cheese, jams, vegetables, cereals, coffee, tea, milk and juice.
Our Guests are allowed to use the Internet and the W-LAN for free.
From the pension the main sights of Budapest (Buda Castle, Margaret Island, Parliament) can be reached easily either on foot or quickly with public transport.
You can reach the most popular shopping centre of Buda in a minute, where hundreds of shops, good restaurants, movies, sport- and going out facilities can be found.
There is a restaurant (Szent Jupát restaurant) on the ground-floor of the hotel building offering large portions and discount prices.
If you do not feel like going out, or - before a dinner, a theatre - you would like to have a drink, you can visit our drinkbar between 20:00-22:00.
Our young and helpful colleagues, working at our non-stop reception desk, rent a car for you, or help you organise your programme and answer all of your questions.
We wait all year for you, be our Guest!