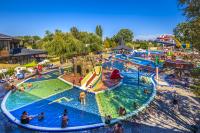 Session Hotel**** Ráckeve, Hungary
2300 Ráckeve, Termál sétány 1.
Phone: 00-36-1-2279614
Hotel video
Session Hotel**** Ráckeve, the newest thermal hotel of Rackeve, awaits its guests with standard rooms, superior suites and a restaurant. The hotel offers numerous child friendly services for families with small children. Aqualand Adventure Bath, located in the neighbourhood of Hotel Termalkristaly, offers an unforgettable experience for every generation with its thermal pools and slide park. The event rooms of the 4-star superior hotel, fitted out with modern technical equipment, are ideal venues for smaller or bigger events.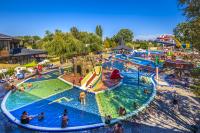 ✔️ Indián nyár Ráckevén a Session Hotelben (min. 2 night)

2023.09.01 - 2023.09.30
Indián nyár Ráckevén a Session Hotelben (min. 2 éj) 27.500 Ft / fő / éj ártól / félpanzió / Balinéz stilusú szaunaház / közvetlen átjárás az AquaLand Termál- és Élményfürdőbe / fürdőköpeny használat / ingyenes wifi /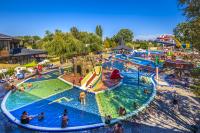 ✔️ Őszi hétköznapi félpanziós akció a Session Hotelben Ráckevén (min. 2 night)

2023.10.01 - 2023.10.20
Őszi hétköznapi félpanziós akció a Session Hotelben Ráckevén (min. 2 éj) 27.500 Ft / fő / éj ártól / félpanzió / Balinéz stilusú szaunaház / közvetlen átjárás az AquaLand Termál- és Élményfürdőbe / ingyenes wifi /