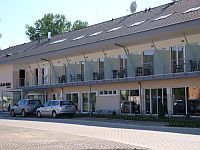 Szépia Bio Art Hotel Zsámbék
2072 Zsámbék, Nyárfás utca 2.
Phone: 00-36-1-2279614
Hotel video
The first and only wellness and conference hotel of Zsambek, the 4-star Szepia Bio & Art Hotel awaits its guests in the picturesque Zsambek basin only 30 km far from Budapest. The hotel pays special attention to recreation, so it is popular among those who live healthy life and who like active holidays. Szepia Bio Art Hotel offers an own wellness department, air conditioned rooms with bio rooms among them and conference rooms which are ideal places for corporate events, trainings and banquets.