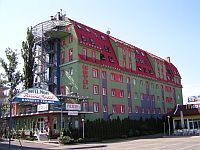 ✔️ Hotel Pólus Budapest
1152 Budapest, Szentmihályi út 131.
Phone: 00-36-1-2279614
Hotel video
The 3-star Hotel Polus *** is situated at about 8 kms from the centre of Budapest and 300 metres from highway M3. Hotel Polus *** is constructed directly next to Polus Shopping Centre, which provides a wide range of possibilities for purchasing, amusement as well as sports. The hotel offers air conditioned rooms of different types and apartments. There is a swimming pool at the reception level and a bowling centre with 4 lanes on the 6th floor.