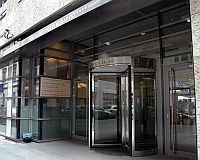 ✔️ Bliss Wellness Hotel Budapest
1066 Budapest, Ó utca 43-49.
Phone: 00-36-1-2279614
Hotel video
Bliss Wellness Hotel Budapest is located in the heart of the capital in Ó street, on the 'Pest Broadway'. The former City Home Residence, renovated and reopened under the name Broadway Hotel awaits the tourists and the business travellers with 28 well equipped apartments with kitchen. Besides the one- and two-roomed apartments, the 4-star superior Hotel Bliss offers a restaurant, an 800 m2 large wellness and fitness centre, deep garage and an event room. Furthermore a dance studio and a beauty parlour are at guests' disposal in Bliss Hotel Budapest.