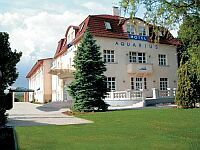 ✔️ Hotel Aquarius Budapest
1225 Budapest, Nagytétényi út 372.
Phone: 00-36-1-2279614
Hotel video
The 4-star Hotel Aquarius**** is situated in Budapest, near to the main road Nr. 6 and the highway M0. The four-star hotel serves the guests who prefer quiet surroundings, far from the noise of the city. The air conditioned banquet rooms of Hotel Aquarius are suitable for meetings, trainings and conferences. 4-star hotels in Budapest, online booking.